It seems like just yesterday Call of Duty: Black Ops Cold War was unleashed, but it's actually been several months. The third content season for everyone's favorite first-person shooter is now upon us, and as is customary for Call of Duty, it's bringing lots of new content with it. New Operators, a brand-new limited time event, more weapons, and plenty more are coming to Call of Duty: Black Ops Cold War Season 3, so without further ado, let's dive in and see what's new.
New Operators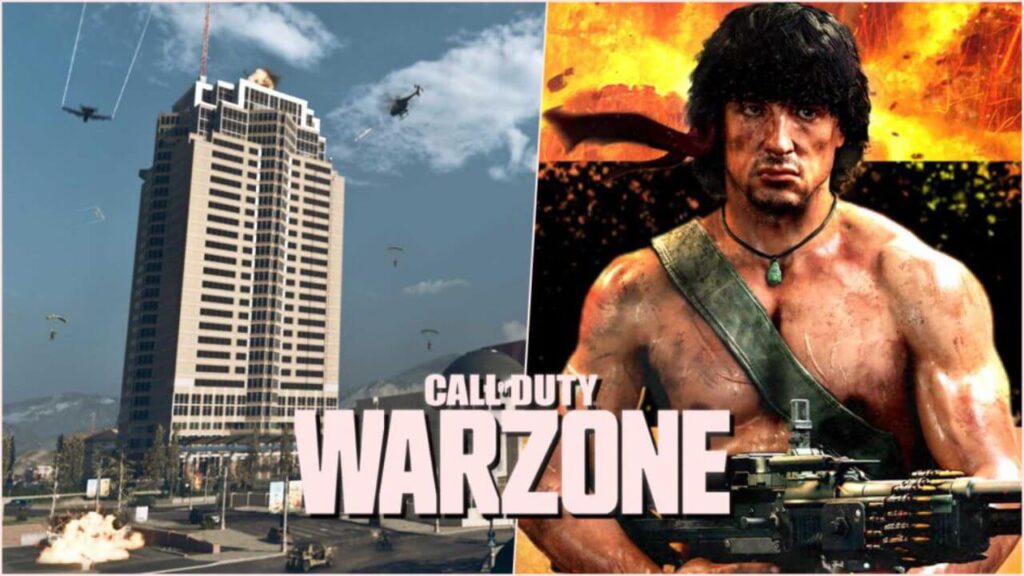 Four new Operators have arrived in Black Ops Cold War Season 3. You'll meet three new faces and get to grips with an old familiar friend. Here are all the new Operators you can play in both Black Ops Cold War and Warzone this season.
Wraith
A Norwegian infiltration expert formerly of the Norwegian Intelligence Services and now working for Perseus, Wraith can be unlocked at Tier 0 in the new Battle Pass, with a new Legendary skin available at Tier 100.
Knight
Alongside Wraith, Knight claims responsibility for the occurrences at Mount Yamantau. He's a wetworks specialist who excels at close-quarters combat. You'll need to grab him via the Store, and he'll cost you 2400 COD Points.
Antonov
Our third new Operator is Antonov, an ex-assassin who specializes in bomb disposal and working with hazardous materials. You can grab him from the Store just like you can with Knight.
Legendary Operator: Captain Price
Everyone's favorite face from the Modern Warfare series is catapulted into the Cold War. Captain Price is free for everyone in Black Ops Cold War; all you need to do is log in and you'll be able to play as him.
New Weapons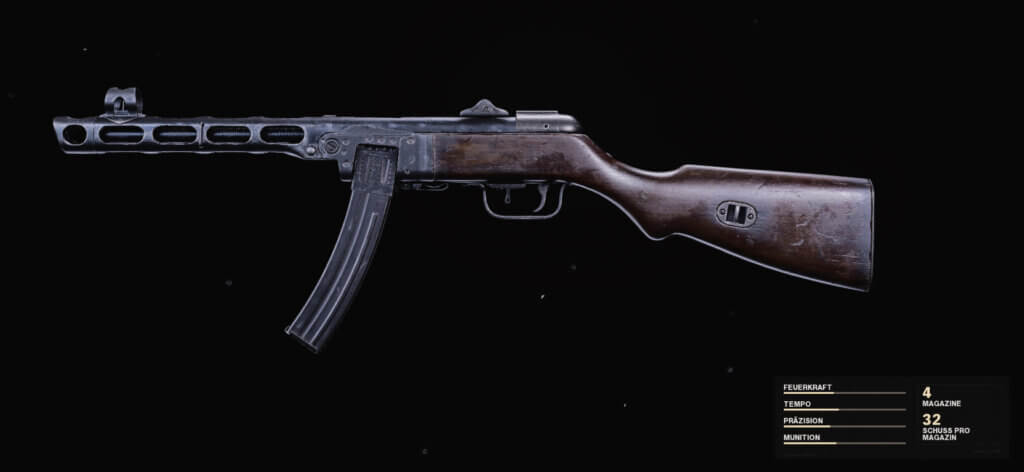 There are six new weapons available to use in both Warzone and Black Ops Cold War this season. From snipers to close-range combat weapons and more, there's something for everyone.
PPSh-41 (SMG)
As an SMG, this weapon is focused on bursts of incredibly quick fire. You can grab it at Tier 15 of the Battle Pass, and it's available across Warzone and Cold War.
Swiss K31 (Sniper Rifle)
For those who prefer their kills at long range, the Swiss K31 sniper rifle should be an asset. It's a bolt-action rifle, so it's incredibly accurate, but it has a low rate of fire.
Ballistic Knife (Melee)
On the opposite end of the spectrum, we have the Ballistic Knife, which is a close-range melee weapon you can use to fire silent knife blades at your enemies.
CARV.2 (Tactical Rifle)
In a similar way to the M16 rifle, the CARV.2 offers high damage and a high rate of fire. You'll have to watch for the recoil, but this weapon is great in sustained engagements.
AMP63 (Pistol)
This Secondary weapon combines the best characteristics of both self-loading pistols and fully automatic SMGs to create an essential sidearm.
Baseball Bat (Melee)
Is there a more classic melee weapon than the baseball bat? Black Ops Cold War and Warzone don't think so. You can grab this one via an in-game challenge.
New Multiplayer Maps (Call of Duty: Black Ops Cold War)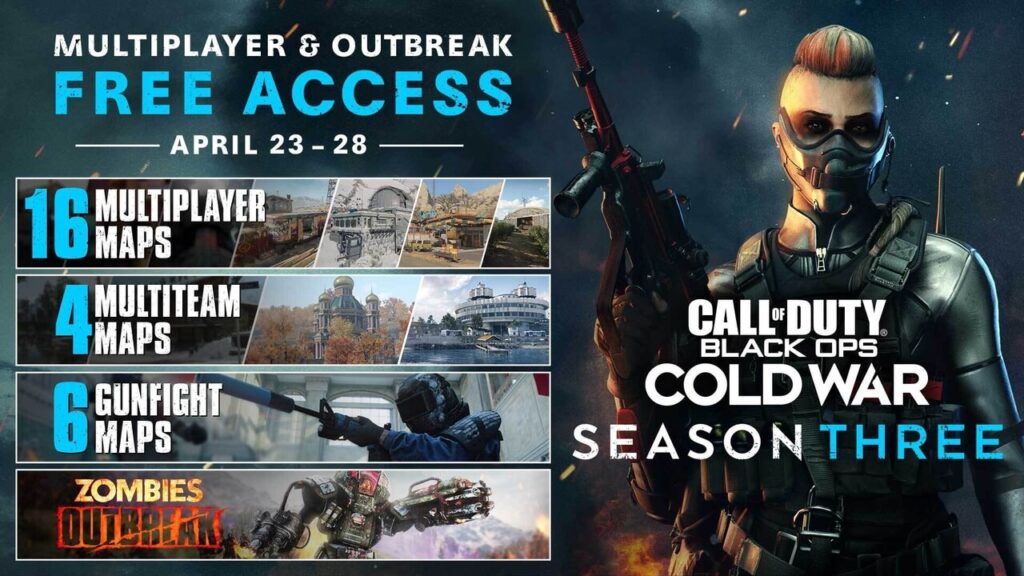 On the Call of Duty: Black Ops Cold War front (sorry), we have four new multiplayer maps. Here are all the new locations across which you can do battle with friends and foes alike.
Yamantau (6v6 map)
A huge satellite dish provides the centrepiece of this map, which also features lots of snowy buildings and dilapidated catwalks across which to fight your enemies. There's also plenty of verticality on offer here.
Diesel (6v6, 3v3, and 2v2 map)
As you might expect from its name, Diesel revolves around a gas station out in the middle of nowhere. You'll also find plenty of other buildings which will provide cover if you're looking for somewhere from which to snipe.
Standoff (6v6 map)
Making its triumphant return from Call of Duty: Black Ops II is this rather wonderful mid-sized map. Activision says you need to watch out for the van by the hay bales, so be sure to factor that into your calculations!
Duga (Multi-team map)
Duga is a huge new map intended for multiple teams to take one another on. Offices, a chemical plant, and more features await you here, so no matter what your team's play style happens to be, Duga will accommodate you.
New Multiplayer Modes (Black Ops Cold War)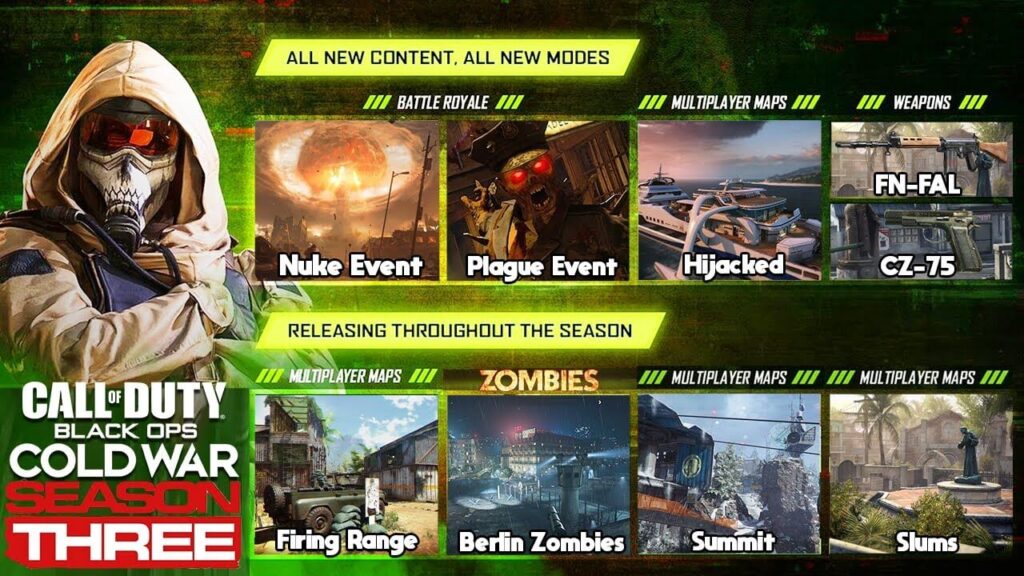 There are two new modes coming to Black Ops Cold War in this season. Here is what you can expect.
Sticks and Stones
If you have ever played this mode on other Call of Duty games, you know what you're in for. Every player is armed with a crossbow, a Ballistic Knife, and a Tomahawk. Build score with the former two and zero out players' scores with the latter.
Multi-Team Elimination
Several teams of four players each must battle in order to survive as radiation spreads across the map. You'll have limited chances to respawn, and you'll have to scavenge for equipment as you play. Either kill all the other teams or make it to the chopper in order to win.
New Tools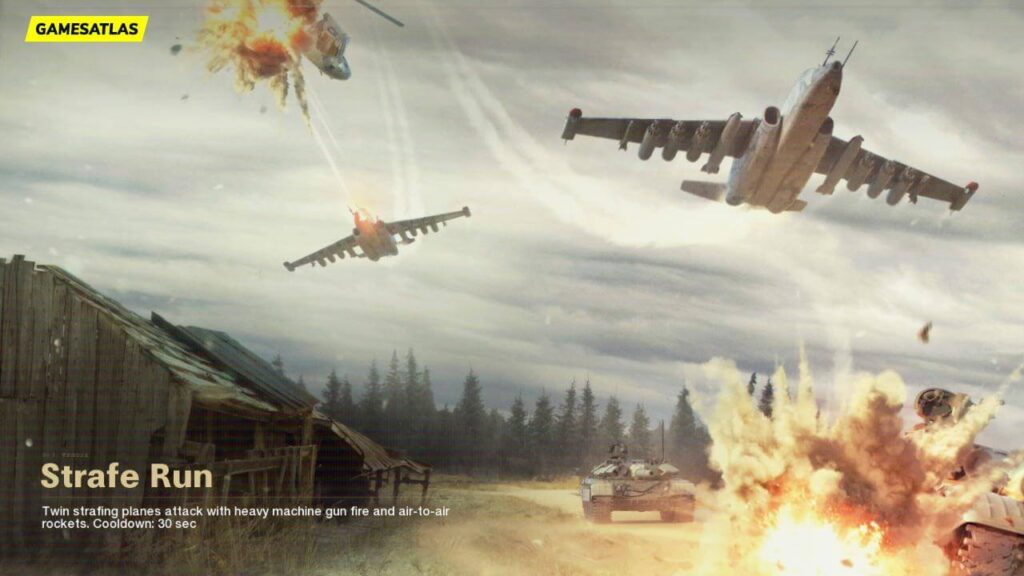 Strafe Run scorestreak
Using the new Strafe Run score streak, you can call down jet fighters to rain fire upon your enemies in a certain area. Perfect for clearing out a packed congregation of enemies.
Cargo Truck
The new Cargo Truck has a mounted machine gun so you can rain bullets down on your enemies. It'll be available on the Ruka, Golova, Duga, and Alpine maps.
New Zombies Content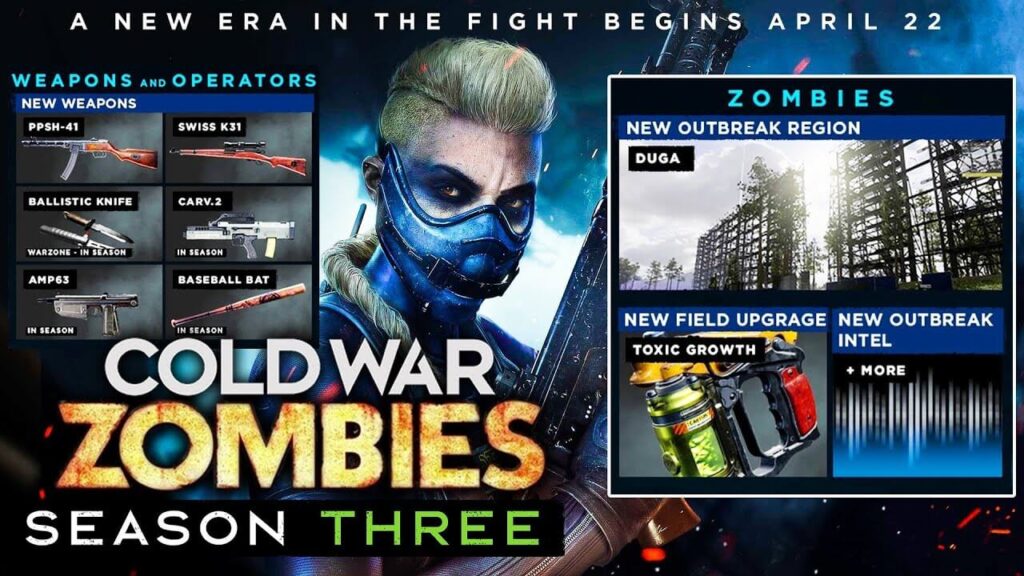 Lest you think the undead-slaying mode in Call of Duty: Black Ops Cold War is getting neglected, think again. There's some new stuff on the way to the Zombies mode as well!
Toxic Growth field upgrade
This new upgrade spawns' toxic thorns in front of you, slowing enemies down and dealing damage to them until they leave the thorny area. You can upgrade this one to improve its damage too.
Duga outbreak region
The Duga region is a brand-new area for you and your squad to explore. It comes complete with plenty of new lore snippets to find, as well as lots of nooks and crannies in which to plan your attack.
FAV and Cargo Truck vehicles
Two new Outbreak vehicles are available to you in Season 3. The FAV (Fast Attack Vehicle) is quick but easy to destroy, and the Cargo Truck is a huge, hulking monster that won't take punishment easily.
That's what you're getting in Call of Duty: Black Ops Cold War Season 3! There are also bound to be plenty of limited-time events throughout the season (some of which, sadly, have already passed), so be sure to get stuck into some games if you want to check it out. The Season 3 update is out right now and you can grab it on whatever platform you're playing on!