It's time for another season of Call of Duty: Modern Warfare 2 content, and there's a huge amount of stuff to enjoy in this latest season. From an entirely new Warzone 2.0 map to extra Modern Warfare 2 multiplayer content, new weapons, new Operators, and a host of other changes and improvements, you've got lots to look forward to if you're a Modern Warfare 2 fan. Let's take a look at everything that's new in this season, as well as a sneak peek at what's coming later on!
Whats New with Modern Warfare 2: Season 2?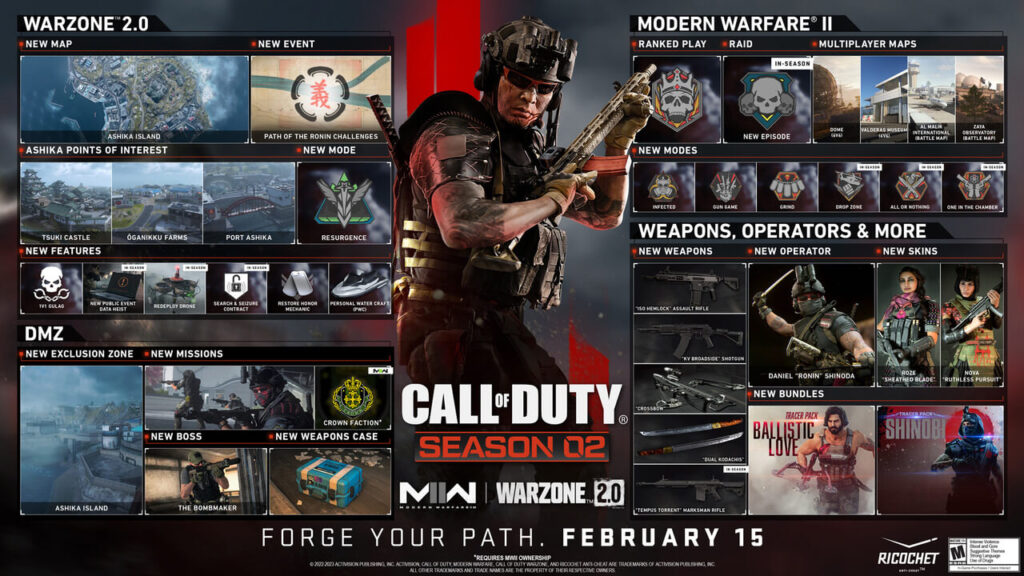 First up, there's a new battle pass in town. Activision Blizzard says this new battle pass has been improved in terms of "polish and usability", so if you've ever found the battle pass tricky to operate, you should be on firmer ground with this one. It has three new weapons to unlock, as well as lots of other rewards, so head into the game to see what you can get for yourself.
Path of the Ronin event
A new event is running across both Modern Warfare 2 and Warzone 2.0. The Path of the Ronin event gives you a chance to complete several Challenges themed around various different aspects of the ronin lifestyle. Doing so will grant you a reward, and if you complete them all, you'll get a weapon for your troubles. Here are the challenge areas you can look forward to.
Integrity
Respect
Courage
Honour
Compassion
Sincerity
Loyalty
Progression
The Prestige cap has been increased to Prestige 9, and you can now unlock Prestige 6, 7, 8, and 9 at levels 300, 350, 400, and 450 respectively. Level 450 is now the max level you can attain.
New weapons
These weapons can be used both in Modern Warfare 2 and Warzone 2.0.
ISO Hemlock assault rifle. This assault rifle takes 5.56 and .300 BLK rounds, giving you a chance to choose which kind of ammo you want to fire. It's a powerful gun with a lot of kick. You can get it via the Season 2 Battle Pass.
KV Broadside shotgun. Speaking of kick…the KV Broadside shotgun is the fastest-firing semi-auto gun in its class, so if you want a shotgun that constantly puts out terrifying power, this is your weapon of choice. This one's up for grabs in the Battle Pass as well.
Dual Kodachi melee weapons. Can you tell there's a samurai theme going on in Season 2? These weapons have a longer reach than the Knife, although they do make you slower when you're sprinting or strafing. They're up for grabs in the Battle Pass.
Crossbow marksman rifle. You can fire 20.0" bolts with this crossbow, and what's more, you can recover them once you've fired them, so nobody even needs to know you've been at the scene of the crime. This weapon can be unlocked by completing all of the Path of the Ronin challenges. Alternatively, you can buy its Store Bundle.
New vehicle
One new vehicle, the Personal Watercraft, has been added. It's a seacraft that can carry two players across any body of water.
New Operators
Daniel "Ronin" Shinoda. Daniel is an ex-Special Forces combatant who's known for mastering several fighting styles and for his unconventional approach to warfare.
New multiplayer playlist
Infected. Operators must avoid the infected player, and every player who's struck down by the infected becomes infected themselves.
Gun Game. Every time you take down an enemy with a gun, you get a different weapon, but killing an enemy with a melee strike puts them back one weapon on that track.
Grind. This is the same as the Kill Confirmed mode, except dog tags must be banked and can be stacked.
Hardcore. Decreased health that can't be regenerated without Stim shots, as well as a limited heads-up display for reduced info.
New multiplayer maps
These maps are accessible in Call of Duty: Modern Warfare 2.0.
Dome (6v6). This is a fast-paced map with the eponymous dome in its centre. The dome has a catwalk that lets you see most of the map's outdoor areas, so make sure that you're watching for your enemies while you're taking in those views.
Valderas Museum (6v6). This map first appeared in the Modern Warfare 2 beta, and it's the second core map launching alongside Dome.
Zaya Observatory. You can play this map in the Ground War and Invasion game modes, and it'll have an expanded combat area.
Al Malik International. Like Zaya Observatory, this map is playable in Invasion and Ground War. It's an airport that usually plays host to a wide variety of activities, but is now given over for modern combat.
Ranked play
This season marks the debut of Call of Duty: Modern Warfare 2 ranked play, so if you want to test your mettle against the best of the best, this is where to do it. You'll be able to play across a variety of maps and rulesets that mimic the Call of Duty League 2023, so you know you're using the same rules as the pros.
All ranked players start the season with zero Skill Rating. You can increase your rating by winning matches, and it'll drop if you lose. Here are all of the different Skill Rating brackets you can try to attain in Call of Duty: Modern Warfare 2.
Bronze – starting division
Silver – 900 Skill Rating
Gold – 2100 Skill Rating
Platinum – 3600 Skill Rating
Diamond – 5400 Skill Rating
Crimson – 7500 Skill Rating
Iridescent – 10000 Skill Rating
Top 250 – Over 10000 Skill Rating
Call of Duty: Warzone 2.0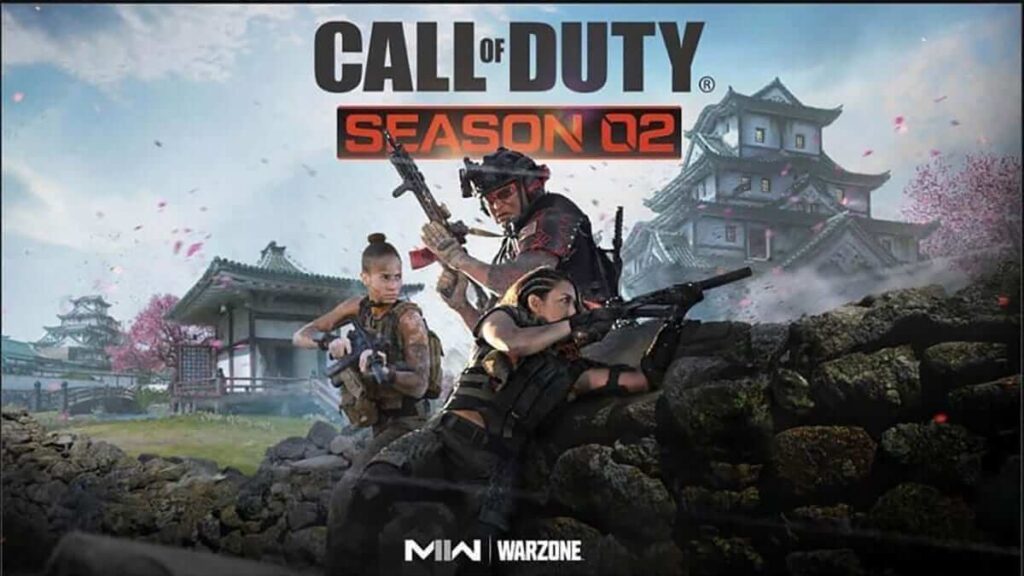 There are lots of changes coming in this season that only apply to Warzone 2.0, too. If you're a battle royale aficionado, you'll find lots to love here. Let's take a look at some of the biggest changes!
New map
Perhaps the biggest change in this update is the new map, Ashika Island. Developed by High Moon Studios, Ashika is a huge map with lots of areas to explore. You can see a deep dive on the new map courtesy of Activision here, but for now, here are the seven biggest points of interest you'll want to check out if you play on this new map.
Ōganikku Farms. You can find this area in the northwest of the map, and it consists of a farm that mixes residential, agricultural, and industrial areas.
Town Centre. In the west and southwest of Ashika Island, you'll find a once-bustling urban district, with lots of tourist attractions, hotels, and civic buildings to explore.
Beach Club. This area is intended for beach relaxation, consisting of an aquarium, a club area, and an open-air swimming spot.
Tsuki Castle. This is a beautiful, traditional Japanese castle that's fortified against invaders. There are lots of nooks and crannies to explore and get the drop on your enemies here, so be sure to explore it as thoroughly as you can if you want to get an advantage.
Port Ashika. In the southwest of Ashika Island, you'll find a port with office buildings, industrial areas, and a comms tower, as well as a way to get into the island's subterranean base.
Residential. There's a residential area that sits northeast of the Farms, and here, you'll find lots of alleyways and roads, as well as two major industrial structures that flank the residential area.
Shipwreck. Last but not least, two massive cargo tankers have run aground on the shoreline, and they might well serve as great areas from which to stage an ambush. You'll have to be clever if you want to do so!
Map updates
There are a whole host of updates coming to Call of Duty: Warzone 2.0 in Season 2, but these are more significant than the standard gameplay tweaks.
Al Mazrah
Sattiq Caves – new downed aircraft
Suburbs 14 – underground tunnels
New passenger train that moves counter-directional to the one already in the map
Zarqwa Hydroelectric – new path through the northern cliffside
Al Malik International – new garage rooftop vehicle ramp
Gulag
Updated to "better suit 1v1 combat"
New modes
Resurgence. Appropriately enough, Resurgence is making a reappearance (or a "resurgence", if you will) in Season 2. Squads can respawn as long as one person in the squad is alive, so make sure that you don't all get wiped out! Squads can shorten a timer for any player waiting to respawn by completing objectives and killing enemy players.
New gameplay features
Counter UAV killstreak. This killstreak deploys a UAV to jam enemy radars and minimaps, as well as HUD, making it harder for your enemies to detect you.
Redeploy Pack equipment. This new piece of equipment gives you "another shot at victory", according to Activision.
Season 2 Reloaded
As well as all the aforementioned content, we also got a look at Season 2 Reloaded, which will feature a new map, a new RAID episode, new modes for multiplayer gameplay, and much more. It's coming soon, so watch this space for more info!
Season 3

Activision has already confirmed Season 3 of Call of Duty: Modern Warfare 2, so you've already got a brand new content season to look forward to. Season 3 will see the return of Gun Fight, as well as Plunder's return to Warzone. In addition, Ranked gameplay is coming to Warzone 2.0. More info will be along soon!
Whew! There's a lot there to parse, we're sure you'll agree. Make sure you read the Call of Duty: Warzone 2.0 patch notes in full so you know what you're up against when you head into multiplayer!