The release of Call of Duty: Modern Warfare II is not far away, but don't worry; Call of Duty: Vanguard is still getting regular content updates. The latest of these, Season Four, dropped back in June, with a mid-season update arriving in July that added even more content. With Season Five also on the way, we thought now would be a good time to take a look back at what arrived with Vanguard Season Four and what kind of stuff you can take advantage of if you jump into the game right now. Here's everything that's new in Call of Duty: Vanguard Season Four.
Vanguard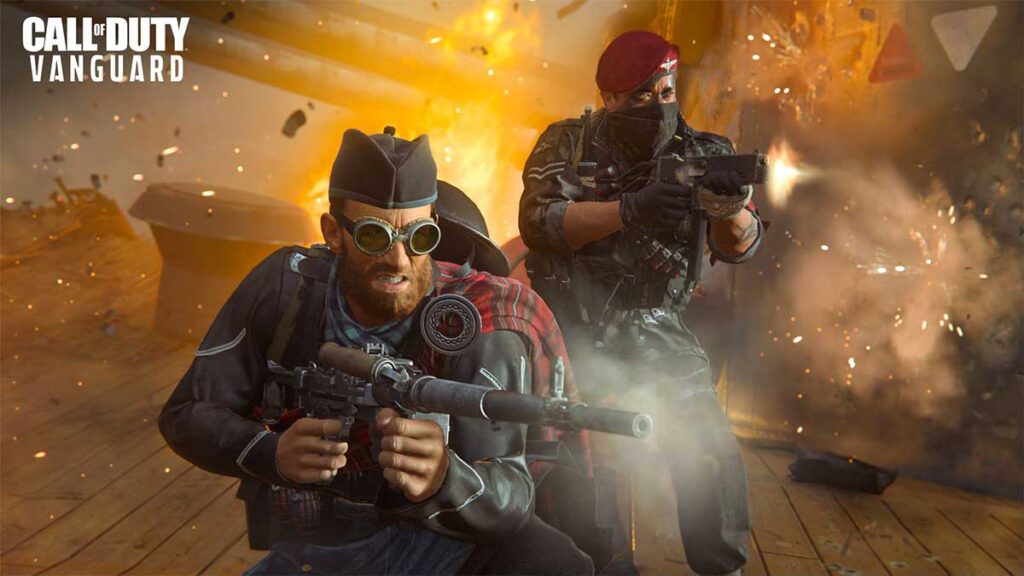 Let's start with everything that's new in Call of Duty: Vanguard, shall we? As always, there was content introduced for both the base game and Warzone, and not everything crosses over, so here we go.
New maps
USS Texas 1945: This map makes its return from Call of Duty: WWII, and it's being hauled out for one last outing in Vanguard. The map is set during the famous Battle of Okinawa and takes place on the titular ship, so you can either duke it out on deck or descend into the ship's corridors for some tight, claustrophobic shooting.
Desolation: This mountain village in the Pacific Ocean was added during the Vanguard mid-season update. It's a town with plenty of nooks and crannies in which to hide and ambush your enemies, so get to know its layout and you'll be rewarded with some great sniping spots or places to sneak up and deal some damage.
New modes
Blueprint Gun Game: Gun Game is making a return in Vanguard, and this time, you'll be running through a rotation of 18 weapons, all of which feature in-game Blueprints. You must score a kill with a weapon in order to proceed to the next weapon, and the first player to score kills with all of the mode's weapons wins the round. Blueprints add some spice to proceedings, with each weapon potentially sporting variants you might be unfamiliar with.
Vanguard Zombies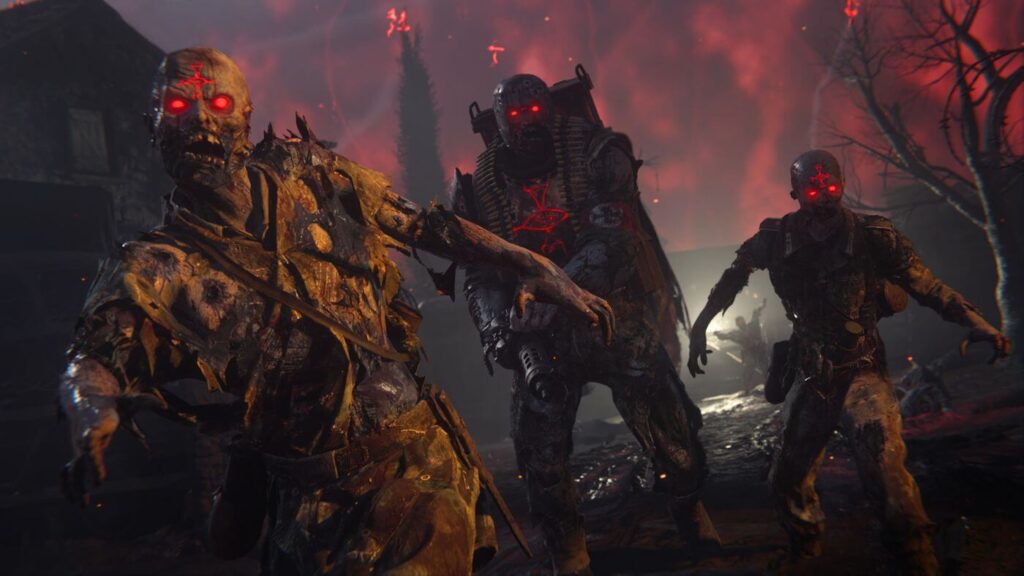 Of course, it wouldn't be a Call of Duty: Vanguard update without some extra Zombies content, so you're getting a revamped version of an old favourite map, plus a little extra stuff.
Shi no Numa: You might be familiar with the Shi no Numa location from games like Black Ops and World at War. It was also a smaller location in the wider Der Anfang map in Vanguard, but now, it's been expanded to its own location. It's also now got the Pack-a-Punch machine and a table for crafting, as well as a new Dig Site area, giving you more places to slaughter (or get ambushed by) the shambling undead hordes.
Wunderwaffe DG-2: Making its return from classic Call of Duty Zombies games, the Wunderwaffe DG-2 is exclusive to the Shi no Numa map and is a force to be reckoned with in terms of taking down your undead enemies. To craft it, you will need a Weapon Barrel along with 3 Vacuum Tubes. The Barrel needs to be charged by the Generator before you can use it, while the Tubes need to be charged using the Electro-Shock Defence trap.
Warzone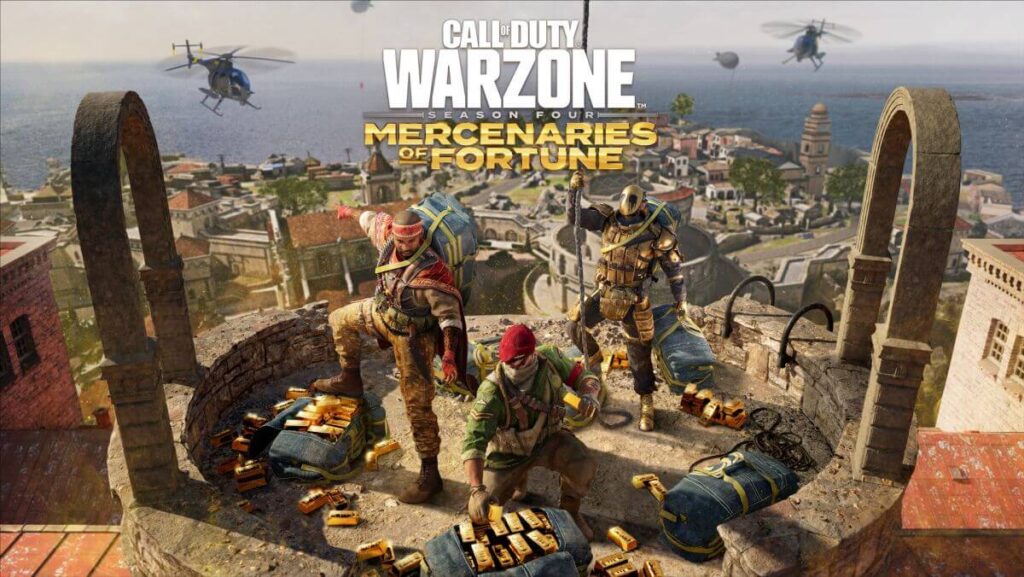 Naturally, plenty of new content arrived for Call of Duty: Warzone in Season Four as well. Let's take a look at what we got!
New map
A brand new map was added to Call of Duty: Warzone in this Season, which is a pretty substantial update. Fortune's Keep is designed primarily for Resurgence and sports a brand new Black Market Run Contract and a Cash Extraction Public Event. There are four distinct areas to this map: the busy Town, the ramshackle Smuggler's Cove, the imposing Keep, and the luxurious Winery.
New Caldera Points of Interest
You'll also find two new Points of Interest in the Warzone Caldera map. The Storage Town area presents a group of rectangular buildings to sneak around in and navigate, while the Mercenary Vaults are a series of hidden bunkers dotted around the island that could contain some pretty sweet loot. You'll just have to explore them to find out, won't you?
New gear and vehicles
Armoured SUV: This vehicle is, as you might expect, a heavily armoured SUV that you can use to transport yourself and/or your buddies around the map. It's slow, but it's a real tank.
Portable Redeploy: You can use this item to launch yourself into the air and land somewhere else on the map, which is ideal if you're struggling to catch up with the circle.
EMP Grenade: This grenade scrambles electronics, which knocks out players' HUDs and also disables vehicles for a few moments. Use that to your advantage!
New Playlists
Of course, several new playlists were also added as part of Vanguard Season 4. These playlists saw the Resurgence mode coming to the new Fortune's Keep map, as well as new Titanium Trials, a Rebirth of the Dead playlist, and Golden Plunder.
Both Vanguard and Warzone
As ever, new weapons and Operators were added to both Vanguard and Warzone, giving you plenty of options when it comes to your loadout and who you want to play as.
New weapons
UGM-8: The UGM-8 is an LMG boasting both high mobility and a high fire rate, so you should be able to use it to mow down your enemies. It does use ammo quickly, though.
Marco 5: If you prefer smaller and more lightweight weapons, this SMG has you covered. It confers a big mobility advantage, but it doesn't do particularly well at distance.
Push Dagger: Stealth specialists will love this weapon, which is perfect for those who like to sneak up on their opponents rather than enter into open combat.
Vargo-S: Ah, the classic assault rifle. The Vargo-S is a great all-rounder that gives you a good fire rate, great aim, and a fast reload mechanism.
New Operators
Carver Butcher (SOTF): Butcher is a British Army veteran who founded the Special Operations Task Force. He's a pretty tough son of a gun.
Callum Hendry (SOTF): If you want SOTF training, you go to Hendry. He likes to showboat, but he's a capable soldier as well.
Ikenna Olowe (SOTF): Olowe is a master of the Gidigbo martial art, and he's also a very skilled battlefield engineer.
T-800 and T-1000 (Terminator): It wouldn't be a Call of Duty game without a rather curious team-up with another franchise, would it? The T-800 and T-1000 Terminator units also made appearances as Operators in this season.
---
That's all she wrote for Season 4! What's your favourite new content? What else would you like to see for Vanguard and Warzone Season 5?